About Dragon Farm
About us
How it all started
Bert Langerwerf at home.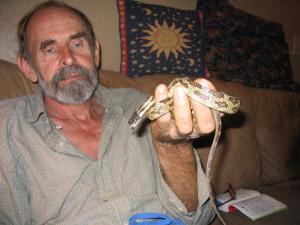 In 1990 I went to see Bert present a lecture at one of these British Herpetological Society meetings. He did a slide show about 'Agama International', his new reptile breeding facility in the US state of Alabama. I was amazed and fascinated by what he was doing. He is definitely a hugely inspirational figure for me in the world of herpetoculture. I made great efforts to try to get hold of any articles that he had written. In 2007, two years before his untimely death, I was lucky enough to spend a week on his farm with him and his wife Hester. It is a time I will never forget, and it was an honour to meet the great man before before he died.
Other people I would like to thank...
These are people I would like to publicly thank for their invaluable support, advice and ideas ( in alphabetical order).
Jason and Teresa Barnard
Chris Davis
Chris Mattison (for the first decent reptile books that I read as a teenager).
Colin Melsom
Hans and Ted Mooren
Rob Pilley
Terry Thatcher
Jasper Willems